Bitcoin (BTC-USD) on Friday was on track for marginal weekly gains of about 0.2%, with the world's largest cryptocurrency by market capitalization stabilizing somewhat after a steep fall last week.
With no specific positive news to drive sentiment, the token's weekly advance appeared to be mostly a correction after its more than 9% decline last week.
Another catalyst that could have supported bitcoin's (BTC-USD) weekly gain was a new investment strategy by stablecoin issuer Tether, which said that it would use up to 15% of its net realized operating profits to buy the cryptocurrency.
Jitters around the banking system, a looming economic downturn, higher BTC network congestion, liquidity concerns stemming from lower participation of institutional market makers and regulatory scrutiny were some of the reasons that led to bitcoin's (BTC-USD) losses last week.
"A month ago, bitcoin (BTC-USD) was surging, passing the $30K level for the first time since the summer of 2022. Regional banking concerns and rising Fed rate cut bets provided a lot of support for cryptos. The bullish catalysts have now faded away and so has roughly 30% of this year's rally," said OANDA senior market analyst Edward Moya.
The total crypto market cap currently stands at $1.12T, an increase of 0.16% over Thursday, according to CoinMarketCap.
Regulatory Updates
Crypto exchange Coinbase Global (COIN) was again in the spotlight this week. The Securities and Exchange Commission (SEC) on Tuesday requested an appeals court to reject a petition filed by COIN regarding rulemaking for the cryptocurrency industry as there are no deadlines requiring the regulator to take action on it.
Moreover, according to reports, SEC chair Gary Gensler in a keynote speech at a conference on Monday hit back at COIN's petition by arguing that there already were existing rules in place for cryptocurrency markets.
"Bitcoin did not get any favor from SEC Gensler earlier in the week, just the standard comments on how rules are already in place. The regulatory question remains the key for the cryptoverse and traders will have to remain patient," OANDA's Moya said.
Elsewhere across the Atlantic, the European Union's broad set of cryptocurrency rules received final approval from member states on Tuesday. The rules are meant to fight money laundering and improve transparency in the crypto sector.
Meanwhile, lawmakers on the UK Treasury Committee have urged that trading in unbacked cryptocurrencies such as bitcoin (BTC-USD) and ethereum (ETH-USD) should be regulated as gambling.
Bitcoin, Ether Prices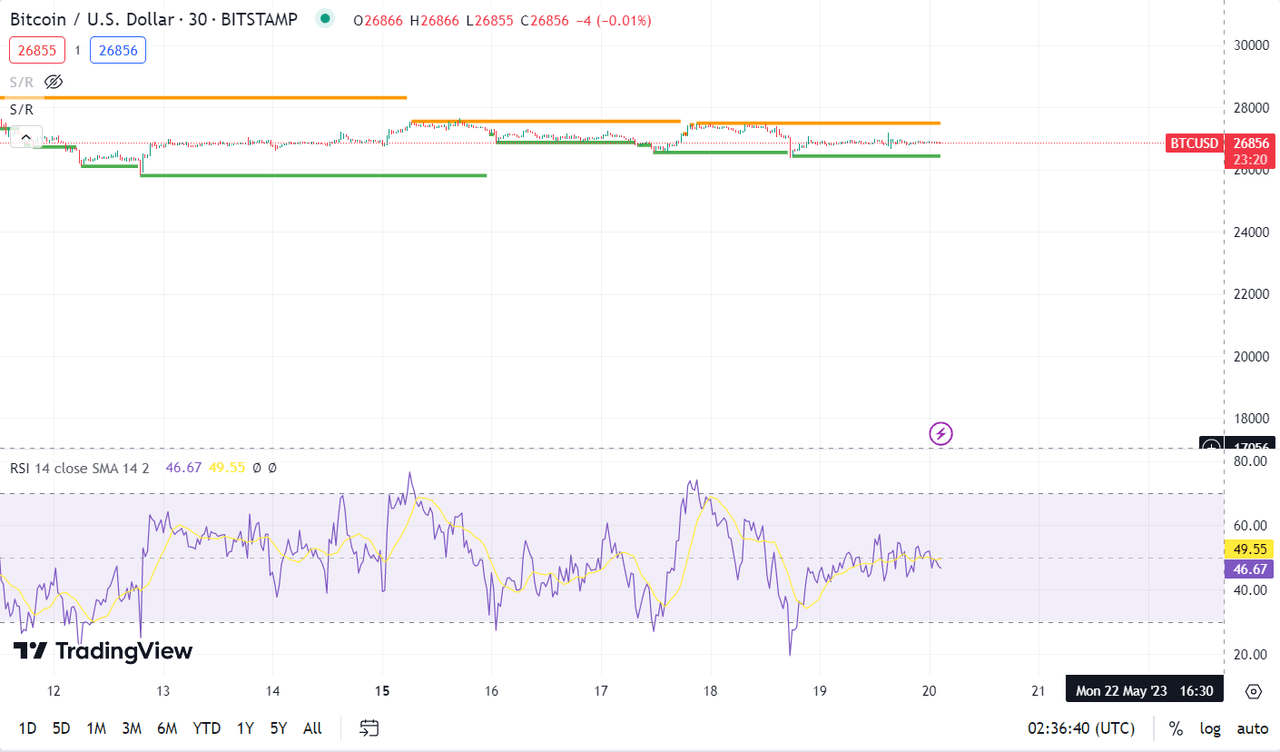 Read why SA contributor Vlad Deshkovich believes it is evident that BTC and ETH have some level of fundamental value if they are to be considered as currencies.