The U.S. mortgage delinquency rate jumped 13% in April from a record low in March, but that spike was exceptional due to a calendar effect, Black Knight said in its First Look report Wednesday.
The M/M climb was largely attributable to April "ending on a Sunday impacting the processing of payments made on the last calendar day of the month," the report said. "More people than you might imagine wait until that very last day" to make a mortgage payment.
Early-stage delinquencies (borrowers 30 days late) suffered the most, surging by 200K, or 25%, in line with the impact of prior similar calendar-related events. Still, serious delinquencies (90+ days late) continued to improve, with the number of such loans falling in 45 states in addition to Washington D.C.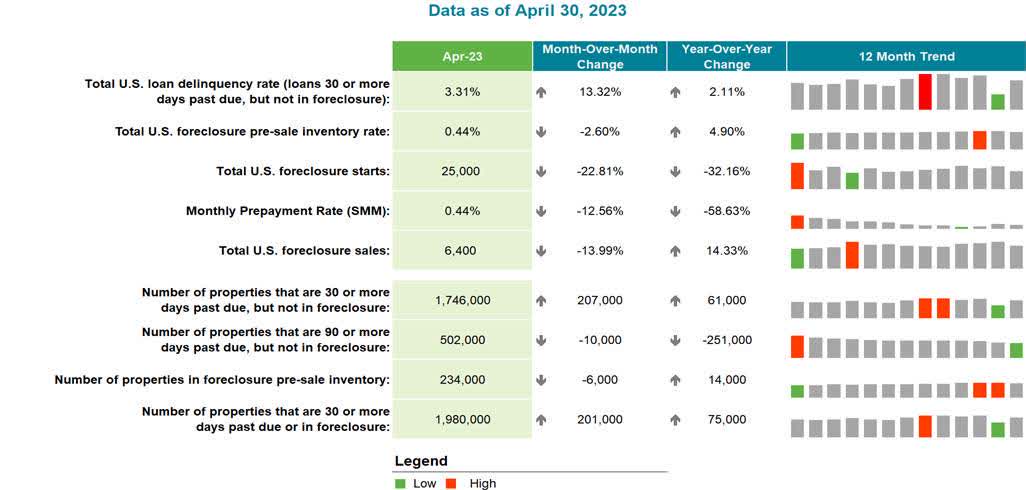 "If historical trends hold true, much – if not all – of that spike will likely reverse itself next month," Black Knight contended.
Also, foreclosure starts of 25K slid 23% in April, representing the lowest level since September 2022 and 45% below April 2019, before the pandemic. And the number of loans in active foreclosure fell by 6K in April and 60K, or 21%, from March 2020.
On the corporate finance front, bankruptcies climbed since the start of 2023, tracking toward more normal levels.