We've all heard the buzz surrounding the Dyson Airwrap (and its cousin the Dyson Supersonic), and sure, with its eight styling attachments and faster-but-less-damaging drying technology, it sounds like it's definitely life-changing and maybe even magical, but not everyone can drop $500+ on a hair tool (even a really amazing one).
The new and improved, re-engineered Dyson Airwrap Multi-Styler Complete is here with improved attachments and a price tag of $599.99. Find it in stock at Sephora and at Ulta.
Feeling sticker shock? We looked for cheaper alternatives to the Dyson Airwrap styler that still deliver quality styling results to see if you can ditch the traditional blow dryer and round brush situation even if you don't have an Airwrap budget (or just can't find a Dyson Airwrap in stock). The good news? There are lots of alternatives. The bad news? There are so many alternatives that we're moving into hard-to-navigate territory. So we put in the legwork and found some of the top-rated hot hair brushes, multi-functional hair tools and one straight-up Airwrap dupe that will help you create salon-quality looks at home. While there are some truly cheap options out there under $50, we set our sights on finding styling tools with good reviews from brands with stellar reputations — so most of our picks fell in the $50+ range.
Read through to find nine Dyson Airwrap alternatives that will have your hair looking like the goddess' mane that it is.
9 Dyson Airwrap Alternatives and Dupes
1. Hot Tools Signature Series One Step Blowout Detachable Volumizer and Hair Dryer
Description: There are a lot of round hair dryer brushes like this on the market, but having tried most of them, I can confidently say that this one is the best (it's less damaging than the Revlon hair dryer brush). This tool cuts down on drying time significantly and makes it way easier to get a big, bouncy blowout than using a round brush and traditional dryer. There is also a smaller brush head and a paddle brush head that you can purchase separately and use along with your device for even more variation in style.
And if you need it, like, NOW, it's available for same-day Target pickup at many of the Target locations we checked
Biggest Difference: While it does help you get a phenomenal at-home blowout, this really is a dryer versus a styler, so you won't be able to get tight curls or waves like you can with the Airwrap.
Promising Review: "I LOVE this. My hair is wavy/curly & ALWAYS blow dries frizzy as all heck. This brushed, straightened & created the perfect smooth blowout for me in ¼ the time it takes me to just blowdry my hair." –Target customer Bridgit081
Price: $69.99 at Target
---
2. InfinitiPro By Conair Hot Air Multi-Styler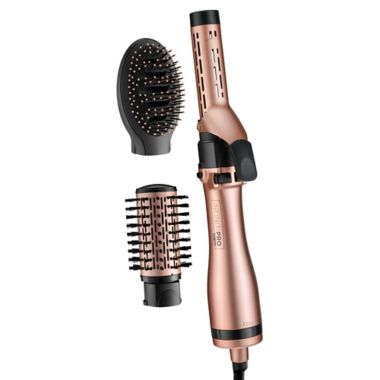 Description: With three different attachment heads, this tool gives you the ability to dry your hair with either a rotating round brush or flat brush (or both), so you can add volume and movement to your hair as you dry it. Two heat settings plus a cool setting also help ensure the best quality blowout. It also features a 1¼-inch curling iron, which you can use with or without the clamp so you can use as either a traditional style curling iron or wand.
Biggest Difference: This tool is obviously working hard to be an Airwrap alternative, the biggest difference being fewer styling heads and potentially more heat damage than the Airwrap.
Promising Review: "This does exactly what it is meant to do. I got this for my 12 year old daughter and she uses it all the time."
Price: $67.99 at BedBathandBeyond
---
3. L'Oreal Professional Steampod
Description: This tool truly is an innovation and uses steam technology to style your hair faster, with less frizz and less damage and breakage than heating plates alone. The idea of using steam to reduce frizz seems completely counterintuitive, but somehow, it really works.
Biggest Difference: First and foremost, this tool is meant to be used on dry hair. Secondly, it can create smooth, straight styles or beachy waves, but isn't going to give you tighter curls like the Airwrap can.
Promising Review: "Easy to use. It works great and fast. I like the little brush because it helps straighten the back of my head without needing a brush. The straightness lasts a long time and I love the sleek look."
Price: $250 at Sephora
---
4. BaByliss Air Style 1000
Description: This hair dryer brush has four different styling heads plus a dryer head, and since it allows for curling while you dry with its vented curling iron head, it pretty closely rivals the Airwrap's capabilities. The tapered curling attachment allows for a wide range of curl styles for the more gifted, at-home stylists.
Biggest Difference: Since this device delivers much of the same technology and styling heads as the Airwrap, the biggest difference is the amount of power.
Promising Review: "I bought this before Christmas and omg, all of us at home are impressed! It looks good, it's super light to hold, dries hair super fast and styles it at the same time (so no more sore arms during a blow dry!) The various attachments are very easy to take off and put on and the finish is like salon hair — what's not to love?" – Feel Unique customer Cinders24
Price: $56 at Feelunique.com
---
5. IG Inglam 4-in-1 Blowout Brush
Description: This styling brush operates almost identically to the Airwrap with a pre-styling drying head to take your hair from wet to damp and then a round or flat brush to finalize your style. Having a diffuser head option is a great addition, so you can use the same tool on days you want to wear your hair curly.
Biggest Difference: Since this has the word "dupe" practically written across it, even down to the shape and color of the blowdrying head, there is a lot that's similar, but the primary difference is a pro in the IG Inglam's favor — a diffuser head!
Price: $155 at eBay
---
6. FLOWER Beauty Titanium Rotating Styling Iron
Description: Perfect for people with curly, wavy or frizzy hair that would rather have smooth, sleek and shiny hair, this tool gives you silky smooth curls or straight strands with a whole lot less damage than a flat iron, thanks to the combination of the round, revolving barrel and brush bristles.
Biggest Difference: This is another tool that is a styler without the drying function.
Promising Review: "This styling iron is an A+. My daughters and I call it, "the magical hair wand." It's not only for straightening but giving style too. It styles fast. We love the ionic bristles and the one-way rotation, no worries about tangling." – FlowerHairTool customer mstew07
Price: $69.99 at FlowerHairTool.com
---
7. Vasari Professional Heated Curling Brush
Description: Despite looking like a round brush you plug in, this tool actually isn't a hair dryer and is meant to be used on completely dry hair. The bristles and a lower heat setting help prevent damage and the clipless style prevents heat creases and pulling, but the bristles help keep your hair in place, making it easier than a traditional styling wand.
Biggest Difference: This tool can't dry your hair and doesn't have multiple heads.
Price: $99 at Amazon
---
8. Revlon One-Step Hair Dryer & Volumizer Hot Air Brush
Description: This product bears mentioning because it constantly comes up in the context of Dyson Airwrap alternatives-related discussions on TikTok and social media. The oval brush is designed to dry hair, smooth hair, create volume at the root and curl the ends in a single pass. It's got two heat/speed settings and a Cool setting.
Biggest Difference: It uses heat, meaning hair damage is possible. In fact, some reviewers warn about hair damage.
Promising Review: Reviews for this product are consistently overwhelmingly positive (3,601 rated it at 5 stars on Ulta.com).
Price: $64.99 at Ulta
---
9. T3 AireBrush Duo Interchangeable Hot Air Blow Dry Brush
Description: The T3 AireBrush is one of the pricier options on our list, but it's still MUCH less expensive than the Dyson Airwrap. Plus, it's supposedly the styling tool to the stars. This tool can smooth your hair, or add bounce, depending on which brush you use. It features an interchangeable brush design, 15 heat speed combinations and T3 IonFlow technology.
Biggest Difference: It's a styler, not a dryer. You'll need to get your hair dry (or mostly dry) before you use it.
Promising Review: "I was super intrigued by the blow dryer brush when I first seen bloggers post about it. I use other T3 styling tools that I love so much. So, when I seen T3 came out with their version of it, it was a no brainer. Absolutely worth the splurge! It gives the perfect blow out. No need to take a styling tool to it so it cuts down on styling time which is incredible!. Genuinely look forward to styling my hair with this any chance I can get! Add a little hairspray to your roots while styling to secure a longer lasting root lift."
Pice: $189.99 at Ulta
---
10. Shark FlexStyle Air Drying & Styling System
Description: This product from Shark has been getting lots of buzz. It came out Sept. 6, 2022, and it's priced at just around half the price of the Airwrap. It has two curler attachments and two brush attachments and promises to dry hair faster than most air dryers, without damaging hair, using the Coanda effect. There's also a version available for curly hair that includes a diffuser.
Biggest Difference: The new version of the Airwrap has more (six) attachments. The Shark FlexStyle has either five or three attachments, depending on the package.
Promising Review: "This system is spectacular you have everything you need to style your hair in one box, to give volume, smooth and create volumes and curls. The handle is light and easy to handle, the parts are easy to exchange, very light and the best thing is that even using it at maximum speed it does not generate smoke or burn the scalp, I LOVE IT and my hair too."
Price: $269.99 for the curly-hair version with five attachments; $249.99 for the three-attachment version at SharkClean.com.
---
How Much Is the Dyson Airwrap?
There have been several variations of the Dyson Airwrap released over the years, and all are more than $500. Each contains different attachments and barrels. The Smooth + Control styler ($799, used, on Amazon) is meant for frizz-prone hair. The Dyson Complete set came out a couple years ago and retailed for $549. Then, in 2022, Dyson released a re-engineered version of the Airwrap: The Dyson Airwrap Multi-Styler Complete. It's designed for any hair type, includes six attachments and is available at Sephora, Ulta and Dyson itself for $599.
If nothing but the real Dyson Airwrap will do and you're willing to pay the price, here's how to find it on sale.
The post The 10 Best Dyson Airwrap Dupes and Alternatives — Get the Same Effect for Less appeared first on The Real Deal by RetailMeNot.